There are times in your life where entire months can go by without you even really noticing . . . I am still not totally sure what I did from August until just a few weeks ago. Well, I did do the Crafty Bastards show and I did start a new job. I even blogged . . . a bit.

Sadly, one of the things that I really wanted to share with you all (all 5 of you that are still actually checking in on me here) are a few interviews that I did with some INCREDIBLY stylish young women who also happen to be Washington DC bloggers. I feel so badly that I never posted their great responses on style, fashion, their favorite designers and living a green life in a timely fashion. But, as I always say, better late than never! So, over the next few days, I will post the interviews! (Note: As you will see, I asked about everyone's thoughts on trends for Fall 2008 since the interview happened in September. Obviously, we are way into Winter, looking longingly at Spring - and all the shorts! on the runways. Maybe, the lovely ladies will offer us some ideas on Spring Fashions in some upcoming posts?)

Tonight, we will start with Em Hall, the über-fashionable writer for the DC Goodwill Fashion Blog. Besides writing an really great blog on fashion, Em lives a really green life! Ch-ch-ch-eck it out below!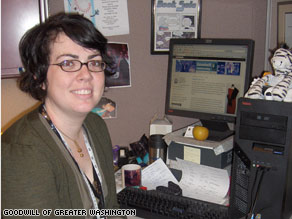 1. Tell us a bit about your blog. The DC Goodwill Fashion Blog is all about vintage and contemporary fashion with a Goodwill twist. The blog emphasizes mixing high and low, old and new in attempt to help every reader discover his or her own personal style. And, at the end of the day, all money raised through the blog and shopgoodwill.com help to support Goodwill's mission of training and employment for people with disadvantages and disabilities. In that way, one can look good and do good. What could be better that that?
2. Why did you start writing the blog in the first place? The idea for a blog at Goodwill actually predated my joining the marketing department. But once we started tossing around the idea more seriously, our team decided that a fashion blog would be a unique way to engage a new audience with Goodwill's mission. It's now about 15%-20% of my job as the Retail Marketing Manager.
3. What do you enjoy most about writing about fashion/style? I love the creative freedom in describing textures, colors, cuts, hemlines, heel heights, etc. I get to stretch out my vocabulary and have an excuse for browsing style.com during the workday!
4. Can you tell us what fashion trend(s) you really like for Fall 2008? I like the availability of great coats. One always sees so many dresses, trousers, jackets, etc., but Aquascutum, for example, made half of their show completely covetable and mostly wearable overcoats. I love it!

5. On the flip side, is there a style (i.e., pencil skirts, high heels, anything well-tailored) that you consider timeless - something that can last through years and seasons? Oh gosh. I think a quality handbag can be carried for years, even decades, if properly cared for and worn with panache. See #6.
6. Many times, people shy away from buying more expensive or designer items because of the cost. However, a well-made piece of clothing, or pair of shoes, can last a really long time. Is there a designer or a label that you like to invest in for the cut/style/quality? I purchased a Chloe Paddington handbag (at a deep discount) about three years back and I can't ever imagine parting with it. Ever. Shoes will have worn soles and scuff marks. Clothes will have worn fabric and a shape-shifting wearer. But a bag… A bag will always fit and if the material is of high quality – in this case gorgeous leather – it should last for a very long time.
7. Along with that, is there a piece of clothing that you have owned for a long time and are still devoted to? Nope. I don't get really attached to my clothing. I donate about ¼ of my wardrobe every season to make room for new things. Now, of course, the higher end pieces I tend to hold on to longer. It's the H&M, Gap, Target, that kind of stuff that all goes to Goodwill. Heck, some of it even came from Goodwill to begin with! But I can't think of any single piece I've held on to for any amount of time.
8. People are saying that "green is the new black" - what kind of things do you do in general to live a "greener" life? Wow, that's a long list: no car, CFL bulbs, all-natural cleaning products, no paper towels, recycled toilet paper, natural cat litter (I'm actually training them to use the toilet so I don't have to have any litter), hand wash and dry about ¼ of my clothes, programmable thermostat, recycling, etc., etc. I even use the water collected from my humidifier to water my groundcover. I don't find any of it to be a hardship, although I do have a Zipcar membership for when I just have to pick up more than a couple of bags of groceries and my bike just won't do! And whenever possible, I even take the train instead of flying. But that's a personal indulgence. There's so much more leg room!